As a web designer, knowing where to look online for all the best news, tips, tools, freebies, tutorials and other useful resources is pretty important. But with thousands upon thousands of blogs out there focused on web design, which ones are actually worth reading?
Your time is valuable, so wasting too much of it browsing through a large number of mediocre blogs isn't a habit you want to bring with you into the new year. By subscribing to a few reputable blogs that delivered the highest quality content over the past year, it's safe to assume that they'll be doing the same in 2016 – possibly with plans to deliver even better content.
55 Web Design Blogs to Follow in 2016
The following list includes 55 great web design blogs that really shined in 2015. Here's hoping that they'll be around for many years to come!
With a focus on both creative and inspirational tips, Creative Bloq aims to deliver the very best in web design, graphic design, 3D design, digital art and more.
All of its content is geared toward helping readers stay on top of current design trends, with multiple posts published each and every day.
One of Creative Bloq's most popular posts from 2015 was 6 Tips for Using Grids in Logo Design.
Smashing Magazine is one of the biggest design and development blogs that takes pride in emphasizing the quality of its content, rather than the quantity. Everything you read is based on the latest trends and techniques in the industry.
In addition to all the valuable free content you get from its blog posts, you can also purchase books in print or e-book form and get tickets to attend Smashing conferences.
Why Static Website Generators Are the Next Big Thing was one of their most popular posts in 2015.
Fast Company's Co.Design has been around for years and is currently one of the largest design sites online, with more than a million readers every month. The blog puts a focus on both business and design, including all the areas in which the two topics intersect.
An interesting and popular post from 2015 to consider checking out is The Golden Ratio: Design's Biggest Myth.
First launched in 1999, SitePoint has become a central hub for web professionals in all sorts of web-related fields including design, development, programming, product creation, SEO, and entrepreneurship.
The blog also offers a premium membership option for those who want access to thousands of video tutorials and every book ever published by SitePoint.
One of their best posts of 2015 worth having a look at is 3 Things (Almost) No One Knows About CSS.
Envato's Tuts+ is all about hands-on learning; helping people apply the creative skills they acquire in areas like coding, illustration, photography, web design and more.
Basically, if you're looking for tutorials that you can follow at your own pace, Tuts+ is one place you'll definitely want to check out. You have the flexibility to dive deep into a specific topic or expand your learning right across a wider range of topics.
One particular tutorial that did really well in 2015 was Blending Models in CSS: Color Theory and Practical Application.
Codrops is a blog that offers articles, tutorials, blueprints, freebies and all sorts of other great content based on all the latest trends and techniques in web design and development.
While the blog isn't updated with new posts quite as frequently as some of the other blogs on this list, you can still count on Codrops for only the most useful, inspiring and innovative content.
A popular post from 2015 includes one where they showed off an Animated Map Path for Interactive Storytelling.
Hongkiat has been a popular blog for designers, developers, and other types of techies since 2007.
You'll find tips, tutorials and inspiration on almost everything. Whether you're looking to learn more about Photoshop, HTML/CSS, WordPress or even Facebook promotion, Hongkiat has you covered.
One of their most popular posts of 2015 includes 20+ Tools to Create Your Own Infographics.
Design Shack has been around since 2003, aiming to provide inspiration in all areas of design with accompanying articles and resources that help readers learn how to create the same examples and succeed more in their work.
The blog offers content on a range of design topics including related subjects like business and freelancing.
A great 2015 post worth checking out on Design Shack is What's a Logo Grid, and Why Should You Use One?
Designmodo is a blog packed full of resources for both designers and developers, offering useful content in categories like coding, WordPress, tutorials, freebies, inspiration and more.
Some of their UI packs are available for free and you can check out their shop for more premium products, ranging from website and design frameworks to icons and WordPress plugins.
One of their best posts from 2015 was Great Font Combinations You Need to Try.
Web Designer Depot's goal is to share only the best and latest discoveries, tips and techniques in web design and development while also covering the business side of design work, mobile apps and working as a freelancer.
Given that it's quickly grown to become one of the web's most popular design blogs, you can find all sorts of great, in-depth articles and tutorials on almost anything.
7 Secrets for Enhancing UX with Micro-interactions was one of their best posts of 2015.
Back when it launched in 2007, CSS-Tricks was all about just what its name suggested – CSS. Today, however, it has since expanded to include all topics related to web design and web development.
The blog is updated with multiple posts every weekday and in addition to those, you can enjoy video tutorials, community forums, code snippets and more.
One post from 2015 worth reading is The Debate Around "Do We Even Need CSS Anymore?"
Initially launched in 2007 as the creator's personal freelance web design site, Speckyboy quickly evolved into the design magazine that designers and developers know and love today.
You'll find helpful tutorials, time-saving techniques, useful resources and inspirational art in all areas of design, development, advertising and mobile.
A popular post from 2015 that you won't want to miss is 50 Free Books for Web Designers & Developers.
Noupe is a design and development blog that aims to keep readers informed about relevant news in topics like CSS, Ajax, JavaScript, web design, graphic design, typography, advertising and more.
The blog is usually updated with one daily post. There's a great "Essentials" section with all sorts of freebies, deals and giveaways you'll want to check out.
43 Handpicked Services for Completely Free Images was one of their most popular posts of 2015.
Written for web designers by web designers, Web Design Ledger's main goal is to serve as a platform that allows users to share their knowledge and resources on everything from tutorials and tips to inspiration and interviews. This is another blog where you can expect to read multiple new posts each and every weekday.
You'll want to have a look at The Anatomy of an Invoice (That Gets Paid) if you're a freelance web designer.
Designr Fix is a blog that caters to literally everyone and anyone who considers himself to be a design junkie.
With a big focus on community, there's a big focus on the evolution of art in terms of both inspiration and technique. You can take advantage of freebies, tutorials, deals, resources and more.
A great post of theirs from 2015 worth a read is The Absolute Minimum Every Novice Web Designer Must Know.
Six Revisions has been a resourceful blog for web designers and developers since 2008. The blog maintains a minimal look and is updated with new posts a few times every month with only the best content.
You'll find all sort of posts on topics like CSS, HTML, JavaScript, design, WordPress and more, along with the opportunity to get access to great freebies, useful tools and in-depth tutorials.
Their most shared post of 2015 was 15 Free Books for People Who Code.
UCreative's You the Designer is a design blog for both beginners and seasoned professionals.
Posts tend to lean a little more toward the artistic side of things rather than the technical side, and they're kept short enough that you can read them in just a few minutes. You can also browse through other categories like business and photography or check out the resource section and freebies available.
A great post from 2015 to read would definitely be 11 Things That Don't Mean Good Design.
Awwwards aims to recognize and promote the work of talented designers and developers who can offer readers useful, innovative and inspirational value. In addition to that, you'll come across a lot of great posts featuring tutorials, tips, trends, interviews, videos, freebies and more by browsing the blog.
One particular post that did extremely well this year was 100 Greatest Free Fonts Collection for 2015.
First launched in 2009, Line25 is a blog that shares web design ideas and inspiration by publishing tutorials and showing off examples of beautiful site designs. The blog is usually updated with a new post at least every weekday, featuring everything from pattern and texture roundups to WordPress plugin reviews.
25 Interactive HTML Websites That Look Like Flash was one of their best of 2015.
Abudzeedo is a design blog that's been around since 2006. It's focused on collecting resources for visual inspiration and useful tutorials that serve designers.
Collections include topics like illustration, interviews, logos, photography, typography, sites of the week and more. Tutorials are broken down by the software program they focus on while also including longer case studies and shorter quick tips.
One great post of theirs from 2015 was 12 Paradoxes of Graphic Design.
Template Monster's MonsterPost is a design and development blog that has been around for more than a decade, covering everything in the industry through daily posts.
Stay updated on news, read reviews, get access to useful tools and teach yourself new skills by taking advantage of the tutorials provided by MonsterPost.
Their most shared post of 2015 was Growth Hacking – an Outlaw of Marketing or Efficient Strategy for a Start Up..?
1st Web Designer is a popular blog for newbie designers. It aims to teach people how to learn web design from scratch, but it's still a great resource for seasoned designers too.
The blog's design itself is very simple and minimal, featuring posts on everything from CSS templates and UX trends to WordPress theme reviews and font collections.
99 Jokes Only Web Designers Will Understand was their top shared post in 2015.
Digital Telepathy is a design company focused on marketing sites, e-commerce, platforms, digital products and mobile apps.
All of the design work they do for companies is heavily focused on the user experience, which is what their blog posts focus on as well. Categories you can browse through include design, inspiration, business, philosophy, products, productivity, resources and interviews.
Their most popular post from 2015 was How to Choose the Right UX Metrics for Your Product.
Design Beep is a blog that's all about publishing content for designers and developers looking for inspiration, tutorials, tips and tricks, free collections and anything else that's related to design.
There's a great freebie section where you can get access to brushes, fonts, icons, PSDs and so much more. WordPress is also a big focus in the resource section.
A lot of their top 2015 posts are for free stuff, one of which was a free download for a Travel App UI Kit.
Inspired Mag combines topics related to the web, design and lifestyle and aims to provide each reader with at least one piece of raw material that fuels their inspiration.
The blog features posts in categories like web design, reviews, WordPress and freelancing. There are some great freebies and deals you can take advantage of in addition to the daily posts.
Their most popular post of 2015 was 4 Reasons Why Czar Might Prove to Be the King of WordPress Themes.
InstantShift is a community geared towards web designers and developers that covers an array of topics, including WordPress tips, plugin reviews, CSS, Photoshop and JavaScript tutorials. They offer collections of open source fonts and icons too.
Readers are encouraged to submit news that they deem relevant to the site and submissions are always open for writers with an interest in web design or development.
Their breakdown of the Top 22 Designing Trends For 2015 That Are Must For Graphic Designers is well worth a read.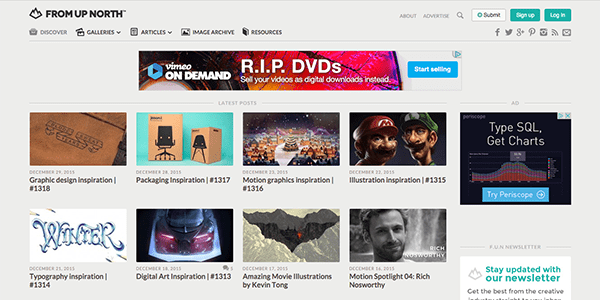 From up North is all about visual inspiration, be it for graphic designers, photographers, or illustrators. Pretty much all professionals who deal any aspect of design are bound to find something that will get their creative juices flowing here.
The idea was born as a simple personal blog curated by Daniel Nelson in 2009, which then garnered enough of a following to be relaunched as From up North, and underwent a final visual makeover in 2013.
One of their all-time most popular posts was 35 of the Best Graphic Design Pieces of 2014.
In-depth tutorials about web development, professional advice for web designers, and round-ups of inspirational tips are at the heart of Design Instruct. It may not publish daily articles, but those that make it on the site are all high-quality pieces.
It was launched in 2010 in a collaboration between Isaac and Jacob Gube (a photographer and a web designer/developer respectively) and the project is open to all contributors with an interest in design or art.
If you're in the market for a job, 10 Free Clean and Minimal Resumé Templates to Help You get the Job might be just what you're looking for.
As you might surmise from its title, this website is all about one man. David Airey is both a writer and a graphic designer who has worked for renowned companies such as the BBC, the Yellow Pages, and the Asian Development Bank.
His website acts as both a personal portfolio and a collection of inspirational pieces for designers, which are brought to life by David's writing.
In his most popular post of 2015, Airey published a short memorial for Swiss type designer Adrian Frutiger.
Spoon Graphics is the brainchild of Chris Spooner, a graphic designer who has made it his mission to share interesting tutorials, in-depth articles, and collections of freebies that other artists can use in their own work.
His endeavor is in part supported by a premium area in which he shares stock material such as patterns, brushes, icons, and fonts for designers who want access to high-quality collections.
If fonts are your thing, you should take a look at his list of 60 Quality FREE Fonts You Probably Don't Own, But Should!.
24 Ways is a blog built around a unique concept. For 24 days during each December, a team of professional web designers and developers band together to bring you 24 articles focused on the topics they deem most important for workers in their areas of expertise, which are then published a day at a time.
Since its inception in 2005, 24 Ways has brought together over a hundred articles, published over two hundred articles, and given its followers an additional reason to cheer for the arrival of December.
Donovan Hutchinson's piece, Animating Your Brand, was one of our favorite articles of their 2015 repertoire.
UX Booth is one of the definitive resources for UX professionals; covering everything from analytics, to business and content strategy, information architecture, interaction design, user experience philosophy, research information, accessibility, and visual design. We weren't exaggerating when we used the word definitive.
The publication was born on 2008 and since then it's amassed a massive collection of writings by dozens of UX specialists.
User Stories: A Foundation for UI Design is a great introduction to the kind of content that you can find in this community.
A List Apart is a publication with a long history; I remember reading it when I was but a wee lad. It's been publishing in-depth pieces centered around web design, development, and best practices ever since 1997, when it was founded as a simple mailing list.
The website was then born in 1998 and since then it has upheld the highest of standards when it comes to content while still remaining on the lookout for new voices who have interesting perspectives regarding web content.
One of their most popular articles of 2015 (and part of their issue number 415) was Quantity Queries for CSS.
While Creativeoverflow is, at its heart, a blog devoted to design, they also publish quite a lot of articles regarding work productivity and finances that can be appreciated by professionals from areas.
Their wide range of topics is part of the reason why this blog has amassed such a dedicated following since it was created in 2009 by Jacques van Heerden.
Design professionals will find some great advice in their 2015 piece, Frequent Mistakes Graphic Designers Make And How To Fix Them.
Vandelay Design is a prolific resource not only for web design professionals and developers, but for all kind of entrepreneurs who want to get a leg up in their respective fields. In their mission statement, they make an emphasis on how education is the foundation upon with all success is built, and as such, their team strives to share the best content with their readers.
Aside from their regular articles, Vandelay Design also offers a shop which is stocked with thousands of handcrafted graphic resources, with everything from resume templates to icon packs.
One of their most popular articles of 2015 was a Blogger's Guide to Creating Better Content.
The Next Web is a leading online publication which covers tech advances, business, and cultural news. Despite not being solely design-focused, they do possess a dedicated Design & Dev section which is essential for professionals of these fields due to its combination of tips, tutorials, and coverage of the latest developments within their fields.
5 of the best interaction design trends of 2015 is a must read for designers with an interest in UX.
SiteInspire has a unique concept: to showcase the very best in website design according to specific criteria. The team that decides which sites to showcase is partial to clean and simple designs, while excluding those that use Flash excessively, or those with obvious visual errors.
Over time, they've amassed a collection of over 4,700 sites that's been painstakingly categorized according to style, type of website, subject matter, and platform (including Behance, Cargo Collective, ReadyMag, Shopify, Squarespace, and Tumblr). This makes it a breeze for designers to search their catalog when they're looking for inspiration.
One of the latest sites to have been featured in their showcase is Merry Everything!
Onextrapixel is a Singapore-based online magazine featuring case studies, tips, news, tutorials, reviews, and other useful resources for both web designers and developers. Their case studies and analysis on design trends are particularly insightful, making it an essential stop for design professionals.
The site was birthed in 2009 by a team of design enthusiasts who then went on to recruit authors from across the globe as it grew into the successful publication it is today.
If you're a creative professional, check out their recent roundup of 7 Ted Talks Every Creative Must See.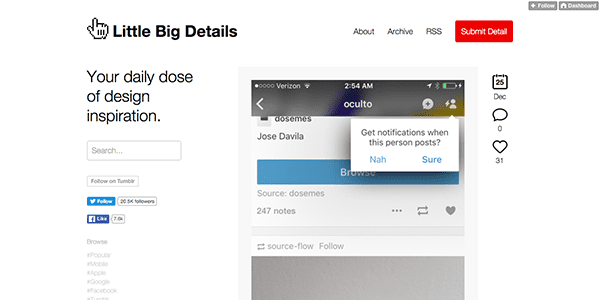 Floris Dekker created a simple collection of pieces meant to inspire designers in 2010, with Tumblr as his platform of choice. Five years and thousands of submissions later, he's now joined by Andrew McCarthy and together they've kept their collection growing with a new piece every day.
Their thousands of subscribers help them out by sending pieces for consideration, which are mostly geared towards UX design.
One of their most popular notes is about the icon design of the iOS voice memo app.
Besides churning out high-quality articles mostly dedicated to design, Creative Market is also an online marketplace for handcrafted and mousemade (in their own words) content open to designers from all walks of life.
Their articles tackle all kind of subjects, from design trends to inspirational quotes, step-by-step guides to launch your own blog and a fun weekly column called Designer Problems.
In fact, if the idea of reading about designer problems tickles your fancy, you might enjoy another one of their articles titled 10 Things Designers Freaking Hate With a Passion.
Naldz Graphics is a little blog with thousands of subscribers and regular readers, who flock to it for their regular fix of freebies which can be used in their own design work, breakdowns of the top trends in web design, and tutorials.
If you're the kind of designer who likes to browse around for inspiration and keep his arsenal well-stocked with free content, you'll enjoy your time at Naldz Graphics.
One of their most popular posts of 2015 was the 50 Finest WooCommerce WordPress Themes To Check Out Now.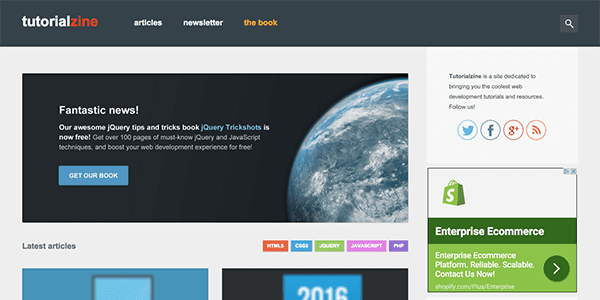 This little zine was created by a team of highly-motivated (and talented) web developers and designers from Bulgaria, who've been regularly publishing their own step-by-step tutorials ever since 2009.
While their site may look simple, their tutorials are anything but sparse. In their web development pieces, you can follow their guidance as you code, and they include screenshots at every step for better understanding.
As far as design goes, their tutorials are just as in-depth as those focused on development, which you can see for yourself in one of their most popular pieces, Comparing Bootstrap With Google's New Material Design Lite.
Treehouse is well known in the world of web development as one of the best places for people to learn coding online, thanks to their thorough library of tutorial videos and practice platform, as well as their gamification approach to learning.
The Treehouse team also maintains a community blog which has turned out to be a surprisingly good resource for web and app designers and developers. On top of news regarding updates on their learning platform, they also publish advice for new professionals in their field and inspirational pieces about self-taught average people who've gone onto success.
One of their most thorough (and popular) pieces of 2015 was 3 Steps to Better UI Wireframes.
Happy Cog is a collection of the musings on web development and design from a team of professionals based in New York, spearheaded by founder Jeffrey Zeldman. A random sample of their articles pulls up diverse topics such as learning how to teach from kids (which could be used to simplify the UX experience), the development process, and print design.
Things I've Learned From Working With My First Web Team is one of their most interesting pieces and applicable to professionals working in pretty much any field.

WebAppers is a compilation of the very best when it comes to open source resources for both designers and developers. For designers, there's collections of icons, stock photos, brushes, fonts, and inspirational resources; all categorized according to their licenses to simplify your search.
It's the brainchild of Ray Cheung, a web entrepreneur who runs several other blogs focused on the same fields.
If you're on the lookout for high-quality stock photos, check out 15 New Websites to Download Free Stock Photos.
Hacking UI is a goldmine of curated content meant for designers to develop their professional skills. Inside, you'll find podcasts, step-by-step tutorials where professionals walk you through solving design issues, and unique insights into business-end matters such as scaling a design team.
This online magazine was created by the designer/developer team of Sagi Schrieber and David Tintner, who previously co-founded a web startup.
One of their most popular pieces deals with a designer's experience after using Sketch for a year, A Year Using Sketch – An Honest Review, which was a follow-up to another one of their articles (which went viral) The Sketch Manual Part 1: How and Why I moved to Sketch.
Whether you love or hate it, material design has certainly made a big impression in the design world and it's likely to remain in vogue for a while to come. This blog was founded upon that principle, and it's made a name for itself by rounding up the best examples of material design out there, as well as publishing tutorials and apps to help designers in their day-to-day jobs.
If you're a regular visitor to Elegant Themes, it's probably safe to say you're interested in WordPress, so you might enjoy this roundup of 11 Free Material Design WordPress Themes to Spice Up your Blog.
Design your way is a visual feast of tips for web, UI, and UX design, alongside a healthy helping of free resources for designers, and some articles covering typography and WordPress advice.
Its articles are filled with gorgeous imagery and you'll be glad to find they have very few generic advice articles. Here it's all about design, covering everything from case studies in good color contrasts, why UX is important for designers, to how to make the best use of blocks in web design.
Curiously enough, their most popular article of 2015 was about food packaging design, Intelligently Made Food Packaging – 50+ Examples.
Medium hardly needs an introduction. In the past years, the publishing platform has gained enormous traction among bloggers and become one of the de-facto sources of information in the web.
This curated list of authors covering design and UX topics hasn't been as active lately, but it still remains a good resource for those who looking for a first-hand account from professionals in the field.
Characteristics of a User Experience Designer is one of the most recent and well-received articles from this list.
The team behind UXPin is most well known for their UX design platform, which is meant to help design professionals go from wireframing to testing in a single app, regardless of their platform of choice.
It stands to reason then that they should know their stuff when it comes to design, which is why their company blog is a fantastic resource for design, UX and project management tutorials and tips.
If UX design is your thing, you might want to take a look at 3 Problems Killing UX Design in the Enterprise (And How to Fix Them).
Good UI's website is an experience in and of itself. If you're expecting a regular blog, you might find yourself confused for a few seconds once you find yourself in their homepage, which as its name implies, is a simple ongoing collection of ideas for good UI design.
Each idea is short and to the point and is accompanied by a graphic example, which makes them all easy to digest. Our favorite part of the website is the counter that tracks your progress down their list of ideas.
Want an example of one of their ideas? Try merging similar functions instead of fragmenting the UI.
UsabilityGeek started off as a personal blog created by Justin Mifsud in 2011, who felt that there was a widespread lack of knowledge about how usability affected the quality of websites. Since then its reach has expanded and the array of topics has evolved to cover UX, conversion, human-computer interactions, and information architecture.
Overall, however, the main goal of the site continues to be educating its readers on how to deliver a great user experience. Its most popular article during the past year was 10 UX Design Trends You Shouldn't Overlook in 2015.
This online journal has been dedicated to the discussion of graphic design, UX, information architecture and business design ever since its creation in 2001. This has been made possible through the contribution of hundreds of design professionals who've lent their voices and expertise to further discussion in the topics they feel most passionate about.
Its minimalist design may not turn any heads, but their articles are sure to get you thinking. A good place to start would be their recent piece into how Creativity Must Guide the Data-Driven Design Process.
Boagworld is the aptly named suite of resources (from podcasts to books, and the aforementioned blog) devised by Paul Boag, where he and other members of the Headscape team get to talk about web development topics ranging from accessibility, design, marketing, and working in the web.
Headscape is a web solutions company with a diverse team and years of experience in the field (so you should listen to their advice) and their articles are both in-depth and enjoyable to read.
For starters, take a look at this article written by Paul Boag himself, User experience design is not what you think.
Last but not least, UX Magazine has been a staple in the online UX community ever since 2005. For years now it's been publishing top shelf articles regarding all areas of design thanks to the help of industry leaders who take the time to impart their wisdom to other practitioners.
Among its articles, you'll find diverse topics such as accessibility, data visualization, storytelling and empathy in design, all alongside the traditional studies into UX design trends.
One of their best and most popular articles (with a title that is sure to raise some eyebrows) is Why Web Design is Dead.
Conclusion
And that's a wrap! It definitely isn't always easy to find the best or most up to date information on web design topics, but the above list of blogs can help solve that problem as you move forward with your work in the new year.